This old magazine rack was actually the very first thing I bought when I found the world of furniture painting. Unfortunately I don't have a before photo, so you'll have to use your imagination a little – it was brown and shiny, with scratches and screws missing. Kind of like this…
Sounds amazing doesn't it! It was $2 at the Salvation Army, and I thought I could give this furniture painting thing a go. It's seems like forever ago. I painted it white, and then let it sit in the garage while I thought about it a little more. I decided I'd like to try using some old book pages to line it, but when I looked at the old books sitting in my bookcase, I couldn't bring myself to pull them apart! Luckily my Mum has never thrown anything away. ANYTHING. I could do a million posts just on some of the treasures in her home, but today, I'll stay on topic and onto the books she found for me to use.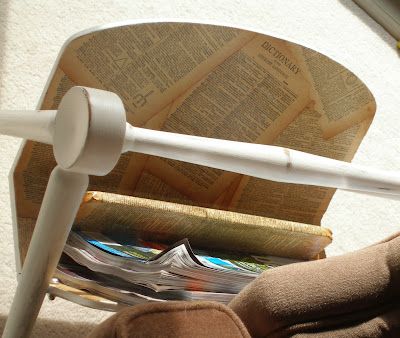 The old dictionary is beautiful, with very cute little illustrations next to some of the definitions. In the picture above you can see a 'triangle' and a 'trident'. Cute right? I'm new to Mod Podge, and next time I'll make sure to spread the stuff more evenly, but for my first time around I'm happy with the results.
I'm working on our coffee table at the moment, and when it's finished the rack will take pride of place next to it (I think, we'll see).
I'm sharing at…
Thanks for stopping by.
PS My photography skills are letting me down, and while I'm working on a new camera, I'd love to take better photos. Any suggestions on tutorials or photo tips someone on the blogosphere would be very much appreciated!!
The post Vintage Book Page Magazine Rack appeared first on Paisley Vintage.