Happy Easter! I hope you have had a lovely weekend full of family and friends, and a little bit of chocolate too

A little while ago I shared some roadside finds – both happened to be cane…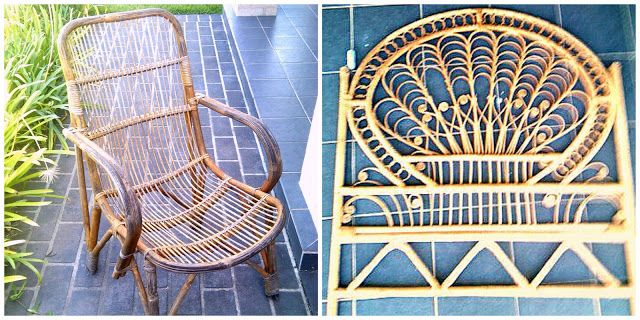 I was actually on the way back from collecting Emma from pre-school. My sharp intake of breathe alerted Emma (4) to my interest – 'Did you see junk Mummy?' she asked, and I said "Yes!!!!' and almost fell out of the car! There were on the same street, just two houses between them and I couldn't believe my luck. Yes they were dirty, dusty and amongst piles of junk, but isn't the good stuff always??
The chair instantly reminded me of some I'd seen in Freedom and Ikea recently, and I knew immediately I wanted to go for a bright colour. When I stood at the paint counter I was second guessing myself and thinking about white or black, but thankfully I stuck with it. This colour is called Shampoo…
I'm really happy with the way it turned out, but was reminded of the hassles with painting cane. I did two coats of primer and three coats of paint… getting into all the crevices was a challenge and kept me thinking about a spray gun. Now that I have a heat gun, it might be next on the list.
The bed head also had some… blemishes… but I thought she could still be beautiful. These are so popular, but at $300 – $400 for a single bedhead they would always be out of my price range (and I'm guessing for other people too) so I decided those blemishes didn't matter.
I put the call out on Facebook about colours for this one, suggesting that I thought I'd go yellow, and got lots of support so decided to jump in.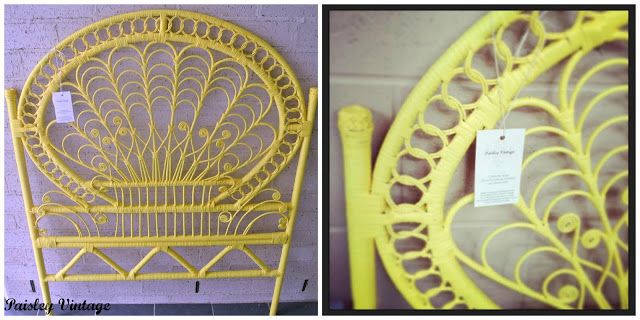 I love yellow, it's such a happy colour and I can just see this being made up with white linen with tiny multi-coloured polka dots… or grey… or just plain white… I could go on

So today it's two for the price of one! I haven't had time for styled photos with the Easter weekend, but I hope the lovely colours will suffice. So, are you a fan of cane? What do you think of my bright colours?
Thanks for stopping by…
I'm sharing at
Under the Table and Dreaming
TwelveOeight
Not Just a Housewife
Domestically Speaking 
The Shabby Nest 
Miss Mustard Seed
The post Retro Cane – a Bedhead and Chair appeared first on Paisley Vintage.