I never buy Emma pajamas. Mostly because when I'm looking at what I need for her for the next season I never think of them, but also because nearly all the pjs you see are covered in brands, logos or TV characters. Emma has heaps of time to wear all that commercial stuff (and hopefully she won't be that interested), so until that monster rears its ugly head I'd like to avoid it if possible.
So, with the weather starting to change I thought I should get stuck into some winter pajamas for Emma, and luckily my Make it Perfect book by Toni Coward has a great pattern! You can take a look at this book
here
.
I'm in two minds about the result. I've never sewn stretch material before, but I had this piece already in the stash and thought it was perfect, and so gave it a go. I also had a long sleeve white t-shirt from Target that I picked up for $3, again perfect for pajamas. So here they are...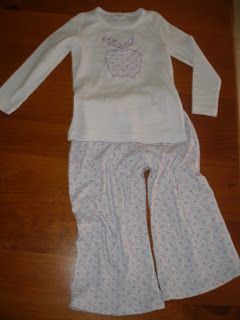 Sewing stretch is much harder than I thought, and even after putting these together I'm still not sure I have it right. The t-shirt is a bit puckered, and I'm worried the stitching on the seams of the pants won't hold. More investigation (and of course practice :) is needed!
And a picture in action! Emma was not a particularly willing model today - its SO hot that wearing winter pjs around for a little while didn't interest her one little bit (not that I can blame her). But I did get one good shot!
They are a bit big yet - but as there are a few months yet till winter I wanted to give her some growing room. Looking at this photo again - they are just so cute!!!